You want complete control over your finances, and that includes your debit card. With the CardValet® app you can define when, where and how your card is used, including the ability to turn it off. This gives you complete control over your card transactions, and allows you to minimize the risk of fraud on your account. If your card is lost or stolen, imagine the peace-of-mind you'll have, knowing you're in control.
For detailed information, check out the CardValet® video tutorial below.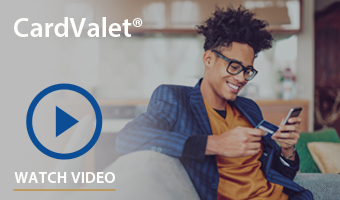 With CardValet® you can:
Turn your card OFF to prevent all card transactions, and when you're ready, turn it back ON to use it
Receive real-time alerts whenever your card is used
Set transaction controls for dollar amount limits, merchant categories, transaction types and geographic locations
Add additional debit cards tied to your account so you can monitor all card transactions made
Monitor your card transactions and account balance
Download the CardValet® app from Google Play or on the Apple App Store today and start taking control of your debit card!