---
Using your First Mid personal debit card is more convenient than ever, because it's compatible with Mobile Wallet services.
For detailed information, check out the Mobile Wallet video tutorial below.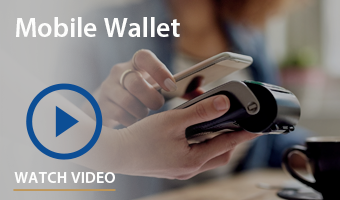 What is Mobile Wallet?
Mobile Wallet services like Apple Pay®, FitBit Pay, Google Pay and Samsung Pay, allow you to store your card information securely on your smart phone or watch, then use your device to make purchases at over a million stores now accepting mobile payments. When you pay in a store using Mobile Wallet services, your device sends a unique, one-time passcode to the merchant's terminal that doesn't contain actual card information like your name or card number, protecting your personal information.
How do I use Mobile Wallet?
Ensure that the app is installed on your mobile device, and if not go to your app store to see if it's available for download.
Follow the simple on-screen instructions to load your First Mid card information to the app. Once your card information is stored on your device, it's ready to use.
To make a purchase at merchants accepting Apple Pay®, FitBit Pay, Google Pay or Samsung Pay, hover or wave your mobile device over the merchant's terminal.
Authenticate your transaction with fingerprint or passcode verification – it's that simple!
Remember, you can add multiple cards to your mobile wallet, but the first card you add will be the default card used for transactions, unless another card is chosen at the time of purchase. So when your First Mid debit card is your preferred way to pay, be sure to add this card to your mobile wallet first.
If you have questions or need help with Mobile Wallet services, contact our Customer Support Center at 1-877-888-5629.